WICOMAGGIA


geb: 2005, dunkelbraune Oldenburger Stute, 166 cm
born 2005, darkbay Oldenburg mare, 16.2 hands

Abstammung/Pedigree

Dimaggio x Likoto xx x Donnerschwee x Figaro x Vollkorn xx

Weissena Stamm (direkte Mutterlinie der Grand Prix erfolgreichen Oldenburger Siegerstute Weihegold)


SOLD / VERKAUFT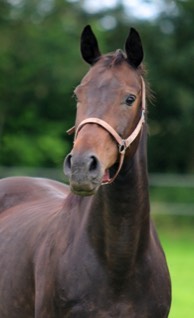 Wicomaggia kam 2014 zu uns. Sie brachte schon hervorragende Nachzucht und Eliteauktionsfohlen zuvor.
Ihre Urgroßmutter Felicia brachte auch Weihevoll die u.a die Mutter von Weihegold OLD ist.
Bewegungsstarke bewährte Zuchtstute aus dem hocherfolgreichen Weissena-Stamm mit sehr guten Grundgangarten.


Wicomaggia is the latest addition to our broodmare herd. She already had very successful offspring such as Elite auction foals. Her great-grandmother Felicia is the dam to Weihevoll who is the mother of Weihegold OLD. This proven mare is out of the very famous Weissena damline.



NACHKOMMEN-FOALS


2015: Stutfohlen/filly by Fürst Romancier,
Wait and See AK
(Verkauft / Sold to Austria)



2018 Hengstfohlen/Colt by Secret,
Saratoga AK
(Sold - Verkauft)


2019 Hengstfohlen/Colt by Secret, San Marco (Mutter Wicomaggia wurde im Herbst 2018 tragend verkauft) Hier sind wir als Züchter verzeichnet.