HEXE XII

geb: 2000, Trakehner Fuchs Stute, 170 cm
born 2000, chestnut Trakehner mare, 16.7 hands

Abstammung/Pedigree
Buddenbrock x Matador x Grimsel x Prince Rouge xx

Ihre Mutter ist auch die Mutter von Hohenstein I & II !!!

Diese Stute stand als Pachtstute von 2012-2015 in der Zuchtgemeinschaft Andreas Klinker und Christian Wöber.
This mare was from 2012-2015 in the breeding community Andreas Klinker and Christian Wöber.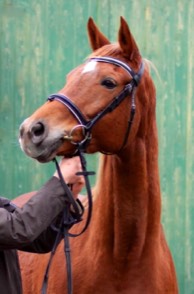 Unverhofft kommt oft. Auf Hexe XII trifft dieses Sprichwort zu. Besonderer Dank gebührt hier vor allem Frau Martina Lehner. Diese sehr hochbeinige und elegante Stute ist eine Tochter des Elitehengstes Buddenbrock aus der Elitestute Helena XIV. Diese wiederum ist Mutter von Hohenstein I und II und stammt von Matador x Grimsel x Prince Rouge xx ab.
Hexe XII ist eine Stute mit sehr guten Grundgangarten. Besonders im Typ ist diese Stute herausragend und verfügt über viel Rahmen.
Exterieur und Interieur in Vollendung.
Ihre SLP absolvierte Hexe XII in Hannover (Wertnote 7,7) wobei die Rittigkeit und die Galoppade besonders gut benotet wurden. (Wertnote 8,0).


NACHKOMMEN-FOALS

2013: Stutfohlen/filly by San Amour I /// High Amour WK , Verkauft/Sold to Bavaria



2015: Stutfohlen von Dragon Hill / filly by Dragon Hill,
High Heels WK
, Verkauft/Sold to Dänemark