DORINA

geb: 2010, braune Westfalen Stute, 168 cm
born 2010, bay Westf. mare, 16.4 hands

Abstammung/Pedigree
Diamond Hit x Florestan I x Werther x Einblick

Ihre Mutter ist Vollschwester zu Fidermark I / her mother is Fullsister to the stallion Fidermark I

Vollschwester der Mutter brachte mit Diamond Hit den S erfolgreichen Deckhengst Den Haag.
The fullsister of this mare brings in combination with Diamond Hit the stallion Den Haag.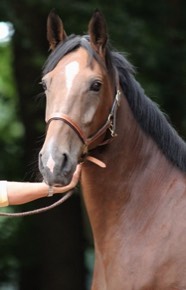 NACHKOMMEN-FOALS


2016: Hengstfohlen/Colt by Morricone I,
MEIN HIT (Monaco BK)
Sold / Verkauft über die Eliteauktion in Vechta

2017: Hengstfohlen/Colt by Morricone I,
MANASLU (Mauritius AK)
,
SOLD / VERKAUFT über die Herbsteliteauktion in Vechta


2020: Stutfohlen/Filly by Morricone I,
DARIA AK
,
Sold / Verkauft


2021: Hengstfohlen/Colt by Morricone I,
MUMBAI AK
,
Sold / Verkauft
2022: Hengstfohlen/Colt by Dynamic Dream,
DYNAMIC HIT AK, Sold / Verkauft


Für 2023 tragend von DYNAMIC DREAM